Parachute's Vehicle-for-Hire Training program has been certified by the City of Toronto for Vehicle-for-Hire drivers in that city as of October 2022.
Register for Parachute's Vehicle-for-Hire Training Program for drivers in the City of Toronto at https://learn.parachute.ca . If you have questions not answered here, or require assistance, please email info@parachute.ca
In Toronto, new applicants for taxicab, limousine and private transportation company (such as Facedrive, Lyft and Uber) driver's licences need to successfully complete a third-party training program approved by the city and submit the certificate of completion, as a requirement of licence issuance. Drivers currently licensed also have to take this training program.
This is a one-time requirement: those who have their certificate do not need to take the course again.
The course is available in English only.
This course, developed at Parachute by adult learning and road safety experts, is composed of five mandatory, self-paced, on-demand online modules. All are narrated in English and supported with written content, illustrative animations, videos and content review quizzes. Average completion time for these five modules is four hours.
In addition, course-takers must complete a mandatory online, instructor-led live class session, which will provide a summary content overview, opportunities for questions, and a 50-question online exam. This component is approximately two hours long and is available upon completion of the five online modules described below.
Important note: You need to be visible to the instructor during the live class and during the exam. To do this, you need to sign in from a desktop computer or the combination of a phone and tablet, where one device will allow you to be visible and the second device will enable you to log in, participate and take the exam. Logging in only from a phone or tablet will likely not work and you won't be able to take the exam if you are not visible.
You will be able to schedule your live video session and examination to complete the course and receive your certification as a Toronto Vehicle-for-Hire driver at the end of Module 5 through a link to our partner Globe Driving Academy, a Driver Education Course Provider approved by the Ontario Ministry of Transportation.
Course price and what it covers
The price is $79.95 plus HST for a total of $90.34, payable upon online registration.
The live test is included in the one-time payment and you have two attempts. If you are not successful after two attempts, you will have to register for the Retake Exam, which has an additional fee of $49.95.
Registration requirements
When you register online, in addition to providing payment information, you must upload image files showing the front and the back of your Ontario driver licence.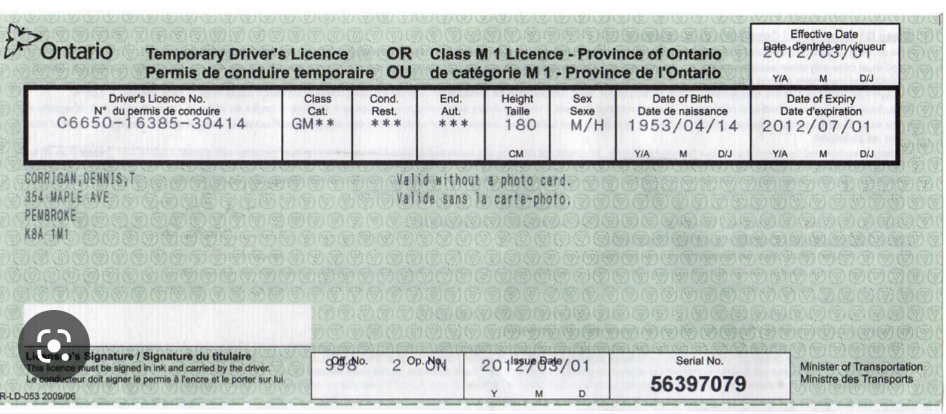 If you are a new driver in Ontario, please review the eligibility requirements to become a Vehicle-for-Hire Driver. If you meet those requirements, and have received a temporary driver's licence like the one shown here, you must do the following:
Register online with the driver's licence number shown on the temporary licence
Upload a copy of the temporary licence
Upload image files showing the front and back of the driver licence photo ID of your previous province of residence or other form of a government issued photo ID. The ID you upload should be the same one you used to obtain your temporary driver licence.
Completing the online modules
Once you are registered, you will get a link to the five on-demand course modules. These must be completed in sequence and are available to you 24 hours a day, seven days a week. You can sign out and return later. The course will start up again at the beginning of the module where you left off. You choose whether to do the modules one at a time, or do more than one in one session.
Live online class and test
Once you have finished Parachute's five online modules, you will get a link at the end of the fifth module to register for the instructor-led, online live class with Globe Driving Academy. You can also download instructions for signing into the exam.
Make sure to register with the name as it appears on your driver's licence.
Once you book your live class, you will get a confirmation email to join your session. These classes are restricted to 25 registrants per class.
Make sure to sign into the session with the name as it appears on your driver's licence.
Registrants must remain on screen throughout the online live class session, including when taking the final examination. You need to sign in from a desktop computer or the combination of a phone and tablet, where one device will allow you to be visible and the second device will let you log in, participate and take the exam.
At the beginning of the live class, the Globe instructor will verify each student's identity using the submitted driver licence ID images.
Please be prepared to ask any questions you have about the online module course material.
After the question-and-answer session, the instructor will provide you with a password to open and activate the 50-question test, which covers material from all five online modules.
If the instructor is unable to match your on-screen appearance with the driver licence submitted, they will message you directly in the GoTo Meeting chat platform to alert you that there is an issue. You may proceed to take the test, but your completion certificate will be withheld until you have a short one-to-one meeting with a Globe Driving Academy staff member to verify that the test-taker and the driver in the submitted licence are the same person.
Getting your certificate
You must complete the five online modules and the live online class and test.
You must score at least 70 per cent on the test and you have only two tries to achieve this result. If you are unable to earn his grade, you will need to book another instructor-led, online class to retake the examination. You can do that by returning to https://learn.parachute.ca and selecting Retake Exam and paying the requisite fee. You're strongly encouraged to review the course modules prior to that.
If you fail to get 70 per cent or higher when you retake the exam after your second live class, you will not pass the course and not receive certification.
When you pass the test with a grade of 70 per cent or higher, you will be prompted to download your numbered completion certificate. Save this document: this is what you must submit in your taxicab, limousine or private transportation company licence application. If you are already a licensed vehicle-for-hire driver, you need to submit this completion certificate to the Vehicle-For-Hire company or companies you work for.
What you will learn in the five online modules
1. Transporting Passengers in a Safe Manner
Safe driving behaviours, including safe pick-ups and drop-offs
Sharing the road with vulnerable road users
Driving at night and in bad weather
Distracted driving
2. Driving in an Urban Setting
Cycle tracks and bike lanes
Unique streets of Toronto
Sharing the road with the TTC
3. Providing Service to Persons with Disabilities
Disability awareness
Service provision – mobility and non-mobility disabilities
4. Providing Service without Discrimination
What is discrimination
Types of harassment
Understanding equity and inclusion
Addressing unwelcome behaviour
5. Understanding the Legal Requirements for being a Vehicle-for Hire Driver
Licensing, vehicle, registration and inspection and requirements
Seatbelt use and obligations
Stopping and parking safely
What to do in case of a collision
Rights and responsibilities under the Ontario Human Rights Code